In the short video below, I'll reveal a quick and easy method to vent a toilet using a Wye and Street 45.
Also, be sure to watch until the end of the video for a free bonus!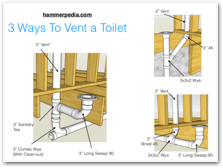 Free Cheat Sheet from the video will show you...
"3 Ways To Vent A Toilet"